Exploration and Resources
Geology
Vein-hosted gold is found within the Dalradian meta-sedimentary rocks in the project's primary licence area (OM1). The steeply dipping quartz veins are orientated north-south and host sulphide minerals including abundant pyrite and galena. Geological structure exerts a strong control on the location and orientation of the mineralized veins in the Dalradian. The Cavanacaw site lies approximately 1 km north of the north-east trending Omagh Thrust. Similar north-east trending regional faults cut through Dalradian lithologies within other Galantas-held exploration licence areas. In total, the company holds seven licences for exploration, two in Northern Ireland and five in the Republic of Ireland.
Resources
MEASURED

INDICATED

INFERRED

Tonnes

Gold grade
(grams/tonne)

Contained gold
(ounces)

Tonnes

Gold grade
(grams/tonne)

Contained gold
(ounces)

Tonnes

Gold grade
(grams/tonne)

Contained gold
(ounces)

Kearney

76,936

7.48

18,490

383,220

6.66

82,055

909,277

6.61

193,330

Joshua

54,457

7.25

12,693

216,211

7.92

55,046

291,204

10.74

100,588

Kerr

6,848

4.63

1,019

12,061

4.34

1,683

23,398

3.2

2,405

Elkins

68,500

4.24

9,000

20,000

5.84

3,800

Gormleys

75,000

8.78

21,000

Garry's

0

0

0

Princes

10,000

38.11

13,000

Sammy's

27,000

6.07

5,000

Kearney North

18,000

3.47

2,000

TOTAL

138,241

7.25

32,202

679,992

6.78

147,784

1,373,879

7.71

341,123
See technical report entitled "Resource Estimate, Preliminary Economic Assessment & Detailed Feasibility Study on the Omagh Gold Project, County Tyrone, Northern Ireland" dated July 26, 2014, which was filed on September 4, 2014 under the Company's SEDAR profile at www.sedar.com and is also available on the Company's website at www.galantas.com. Mineral Resources that are not Mineral Reserves do not have demonstrated economic viability. The resource statement is expected to be amended with the inclusion of underground sampling results and additional drilling.
Exploration Potential
Multiple targets have been identified for resource expansion.
Target name

No

Central grid ref.

Potential tonnes range (t)

Potential grade range

(g/t Au)

Resource extension targets

Low

High

Low

High

Kearney

31

H401/710

300,000

745,500

4.5

6.7

Joshua

32

H3970/7072

272,000

750,000

4.0

5.5

Elkins

35

H4061/7130

200,000

400,000

2.0

4.0

Kerr

33

H3995/7065

180,000

360,000

2.0

4.0

Gormley

34

H3974/6982

230,000

460,000

3.3

6.5

Sammy's

40

H4036/7138

30,000

60,000

2.1

4.2

Princes

37

H3935/7004

20,000

40,000

19

38

Garry's

38

H3936/6955

80,000

160,000

0.7

1.3

TOTAL

1,312,000

2,975,500

Exploration targets

Peter's

41

H3915/7137

4,000

13,000

4.5

9.0

63 Gram

52

H3910/7190

33,000

101,000

4.5

9.0

North of Sammy's Barn and East Cousins

28 & 51

H3980/7171 & H3980/7183

135,000

810,000

4.5

9.0

Cornavarrow Burn

4

H34977/69417

60,000

360,000

4.5

9.0

Corlea Burn

22

H388/726

60,000

360,000

4.5

9.0

Legphressy

26

H345/704

60,000

360,000

4.5

9.0

Cousins

50

H3925/7120

48,000

145,000

4.5

9.0

TOTAL

400,000

2,149,000

TOTAL EXPLORATION POTENTIAL*

1,712,000

5,124,500
The potential quantity and grade is conceptual in nature and there has been insufficient exploration to define mineral resources in these areas. It is uncertain if further exploration will result in the targets being delineated as mineral resource. The exploration potential does not represent a mineral resource, does not have demonstrated economic viability and is disclosed in accordance with NI 43-101 Rules and Policies, Section 2.3, disclosed as potential quantity and grade, expressed as ranges, of a potential mineral deposit that is to be the target of future exploration. The disclosed target potential quantity and grade ranges have been assessed based upon the reasonable extrapolation from defined resources and / or surface soil sampling, pionjar sampling, boulder sampling, favourable geophysical or favourable geochemical signatures, the results of which elevate these areas as highly prospective first order targets for further exploration. Howe (2012) carried out a similar analysis of target potential. Most of the target estimates are similar, with the exception of Joshua and Kearney veins. The range of both of these targets has widened. In particular, the Joshua target has increased significantly in the upper tonnage range bound due to an increase in known strike length and the lower and upper grade range bound has increased due to a higher known average grade and greater overall knowledge of grade variation. Source: Galantas NI 43-101 / PERC Technical Report 2014. The Exploration potential of Kearney and Joshua targets will be re-assessed in the light of additional information from underground development and additional drilling.
Targets relative to main Joshua and Kearney veins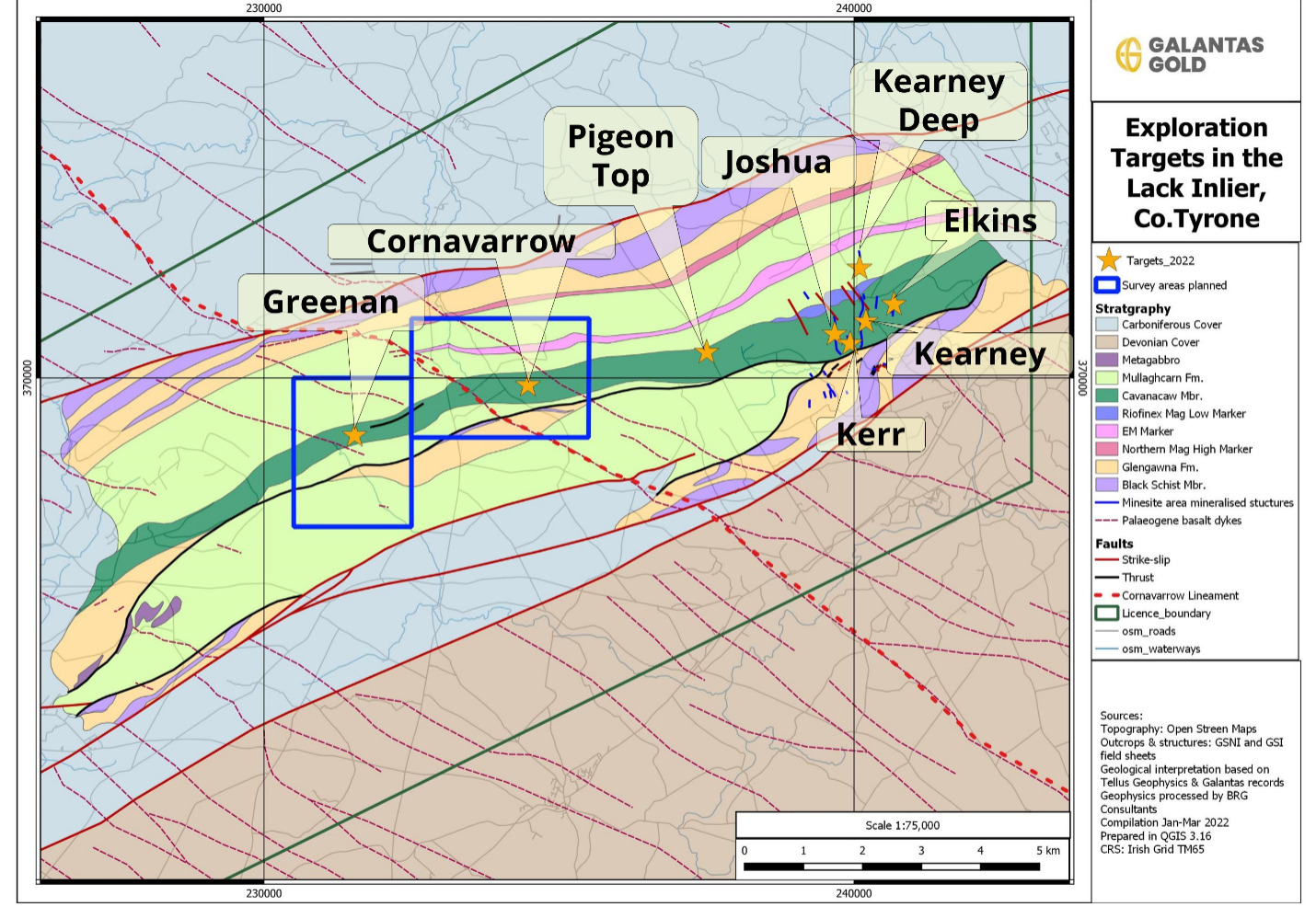 Underground mapping revealed dilation zones
Detailed geological mapping of the development drives revealed a pattern of wider and higher grade areas of mineralization, also known as dilation zones.
The 'dilation zone' theory was developed in 2019 and is being tested during our current drilling program.
Dilation zones occur on shallow north dipping planes in both the Joshua and Kearney veins.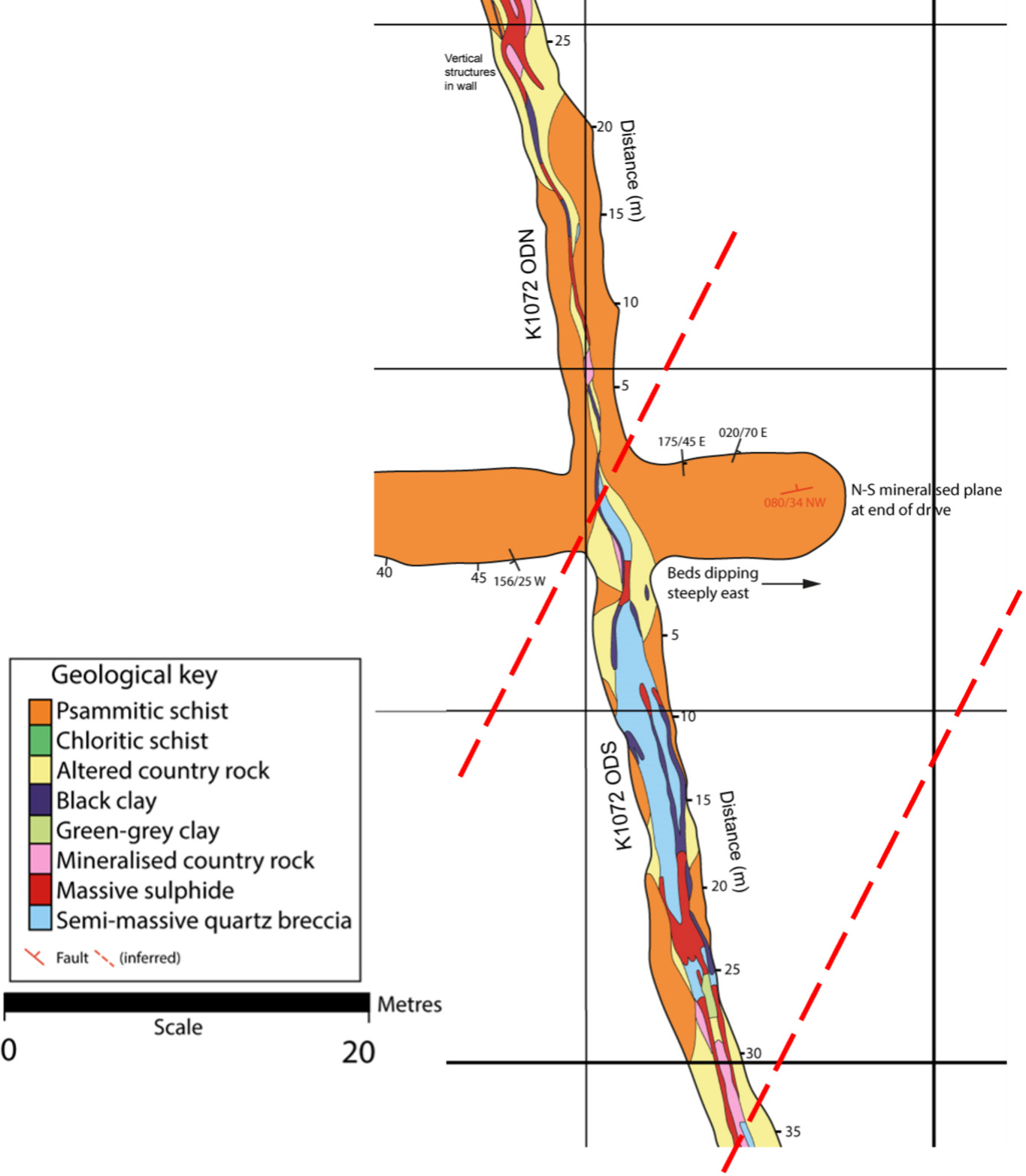 Qualified Person
Scientific or technical disclosures in the Exploration and Resources page of this website have been reviewed and approved by Dr. Sarah Coulter, who is considered, by virtue of her education, experience and professional association, a Qualified Person under the terms of NI 43-101. Dr. Coulter is not considered independent under NI 43-101 as she is the Chief Geologist of Galantas Gold Corporation.